Sin Chew Entertainment
24 October 2007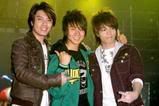 Rynn Lim Yu Zhong's First Concert's Guest Artist~
There will be 3 guest artist during Yu Zhong's First Concert in Malaysia. They are JJ 林俊杰, A-do 阿杜 and also 李志清 (Lee Zhi Ching). After spending 2 years in the music finally Yu Zhong had the chance to held his first ever concert in his own country Malaysia. This is concert is a tribute to all his family, friends and also fans that supported him all the way. Yu Zhong had a lot people suggesting the list of guest artist for the night, but Yu Zhong insist on having the 3 of them for his first ever concert.
To those who want the chance to get closer to Yu Zhong, make sure you attend Yu Zhong's Concert. Not only that, there is also a ticket launch on the
11.11.2007
at
11.11am
at
Berjaya Times Square Entrance

.
At that time Yu Zhong will personally autograph for those who get the tickets on that day.
Proudly sponsor by
Sony Cyber Shot
, organized by
CMG Entertainment
,
8 December 2007
, 7.30pm at
KLCC Convention Centre Plenary Hall
, Ling Yu Zhong 1st Concert in Malaysia. Ticket prices at
RM250, RM180, RM150, RM120 and RM80
. For more information or ticket reservation, please contact hot line
1300 88 2383.